Baked Donuts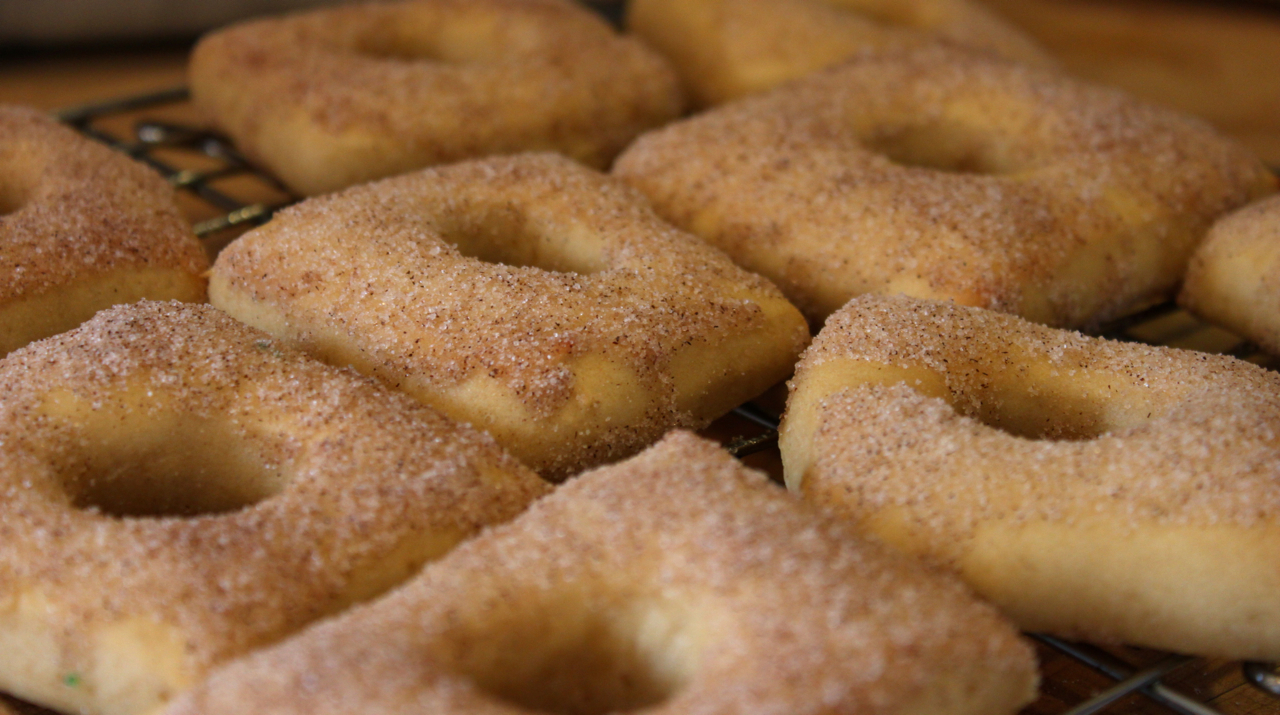 I am not a big fan of the kitchen. In spite of that handicap, I do find myself spending an exorbitant amount of time there. But unfortunately I do like to eat, so I guess it all works out well in the end.
It had been years since I had made these wonderful baked donuts, and I ended up making them twice this week. Once to share with some friends and another time so I could photograph the process to share with my good friend Lisa.
Hi, Lisa! I hope your family enjoys these Cinnamon Baked Donuts!
This post is going to include a lot of pictures, I hope it is not too boring and hopefully a bit helpful.
First I will start out with the recipe ingredients and then we will dive in and walk through the process.
Cinnamon (or not, if you don't prefer) Baked Donuts
makes approx. 18
3/4 c milk, scalded and cooled
1/4 c sugar
1/4 butter, melted
1 teaspoon vanilla
1/2 teaspoon salt
1 egg, beaten
1/2 c warm water
1 pkt yeast
3 – 3 1/2 c flour
2 Tablespoons melted butter
1/2 c sugar
1 teaspoon cinnamon
---
Ok, now we are ready to jump into the more nitty-gritty of 'how-to'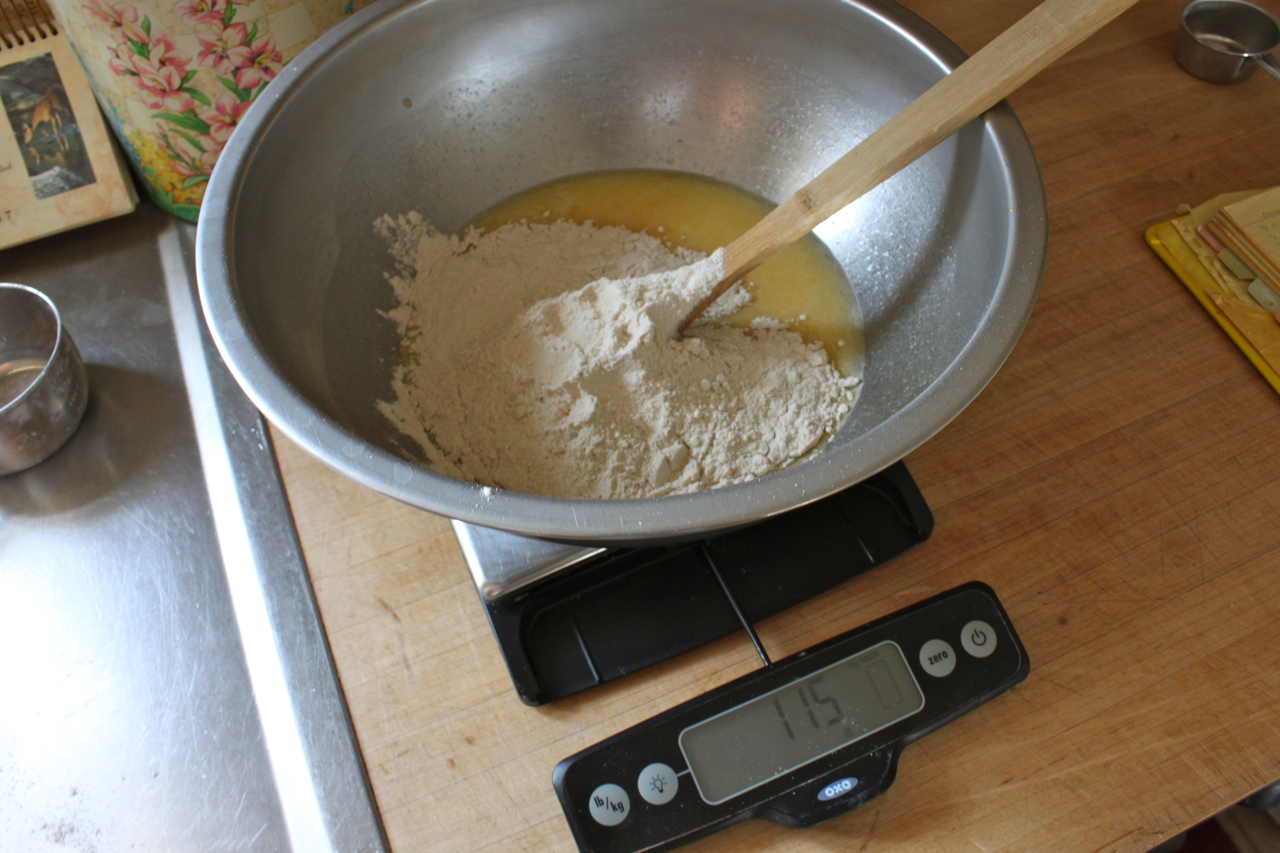 Scald the milk. I do this small an amount in the microwave. About a minute and 50 seconds (2 minutes boiled it over for me! :) Cool to lukewarm – slightly warm to your hand on the side of the measuring cup. As you can see, it forms a 'skin' on the top. This is a certain enzyme (?) that if you remove it, will make a nicer bread texture, but if you forget, it won't be a big deal for these donuts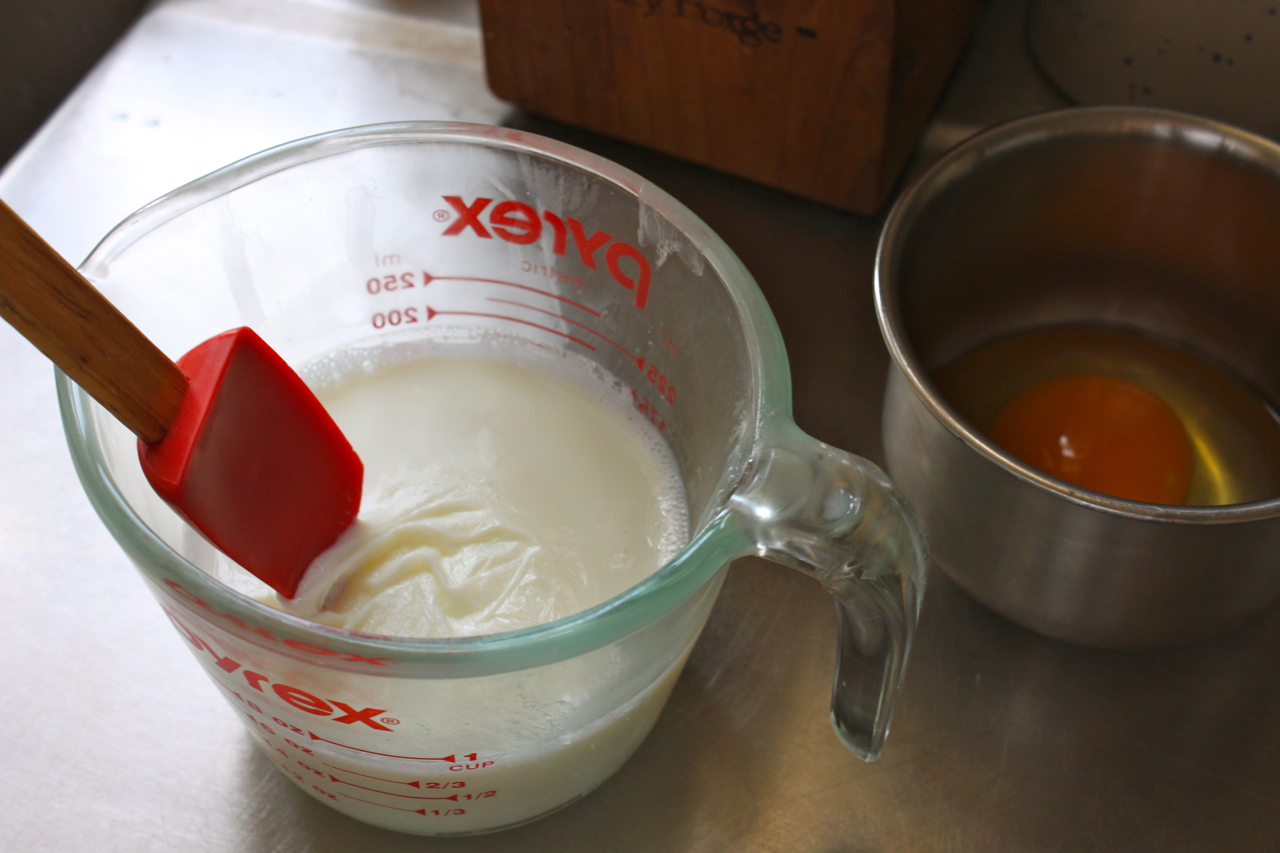 After taking the skin off, I put the butter in the milk and heated it again in the microwave for about 20 seconds to melt it, but you can do it separately too. Just make SURE the temperature is only just warm when you add the yeast mixture later or it will kill the yeast! :) (been there done that) Stir the yeast into the warm water, set aside.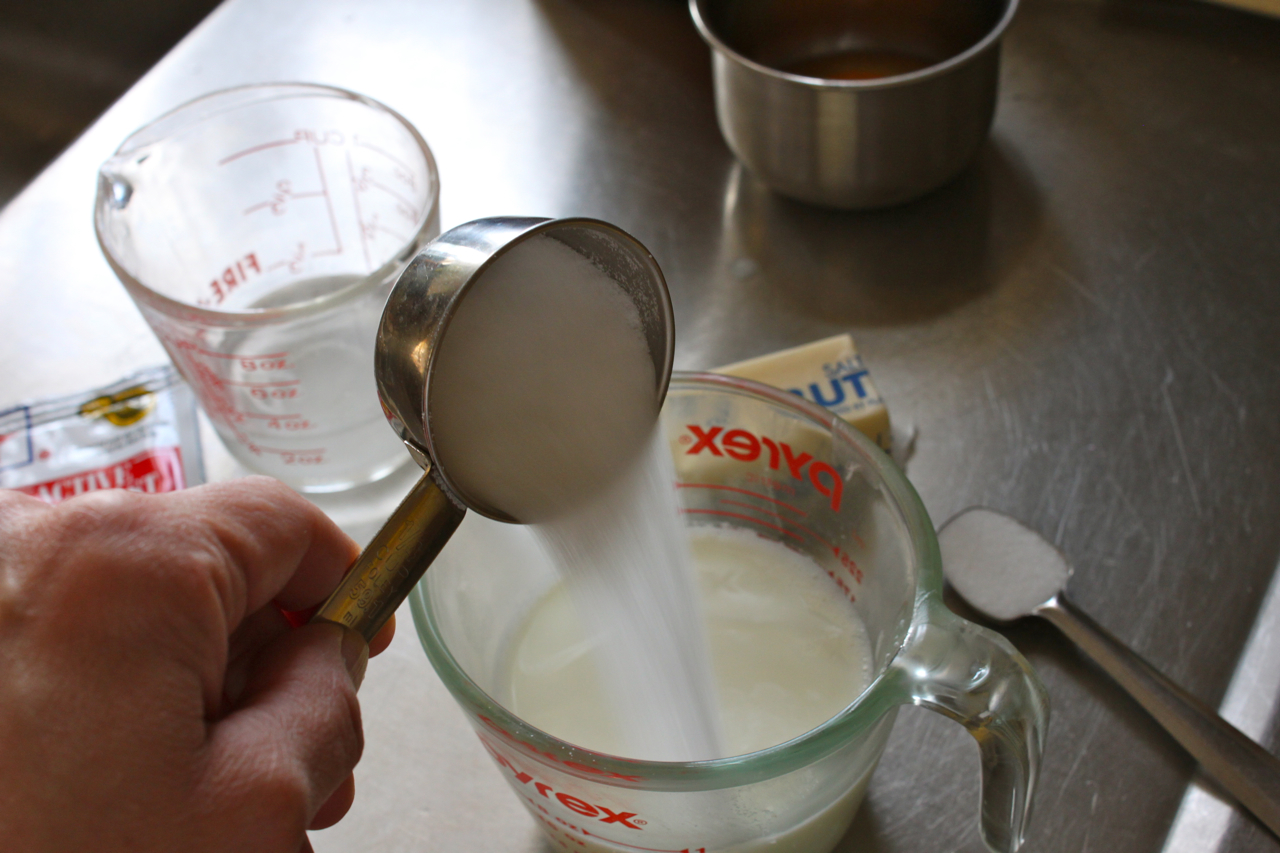 Sugar. You can also add a few grains of sugar into the water in which you dissolve the yeast to help get it 'going' otherwise, just dump it all into the milk with the butter, salt, and vanilla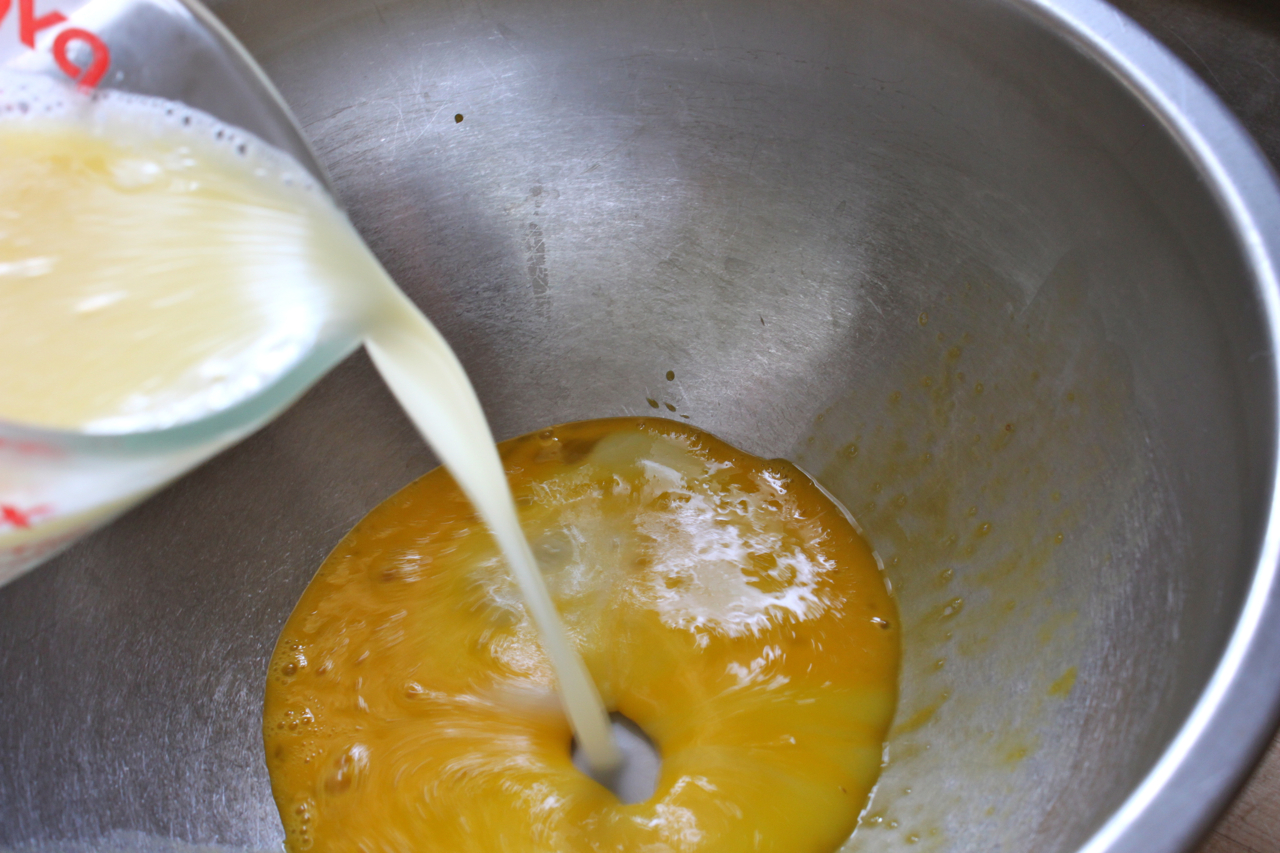 Break an egg into a large bowl, beat, pour the milk mixture into it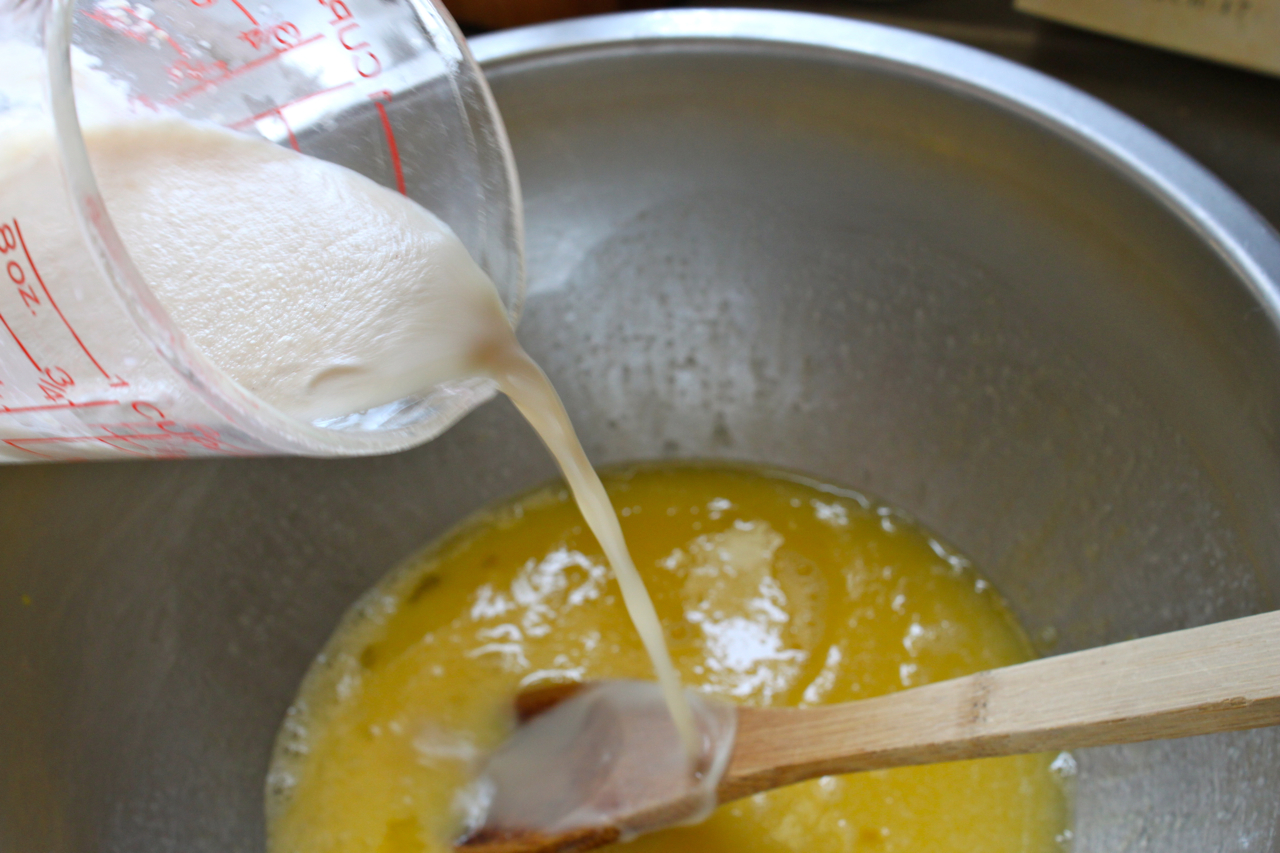 Being certain the egg mixture is only warm, pour in the yeast mixture. Stir until well combined. Start adding flour, one cup at a time, stirring well after each addition.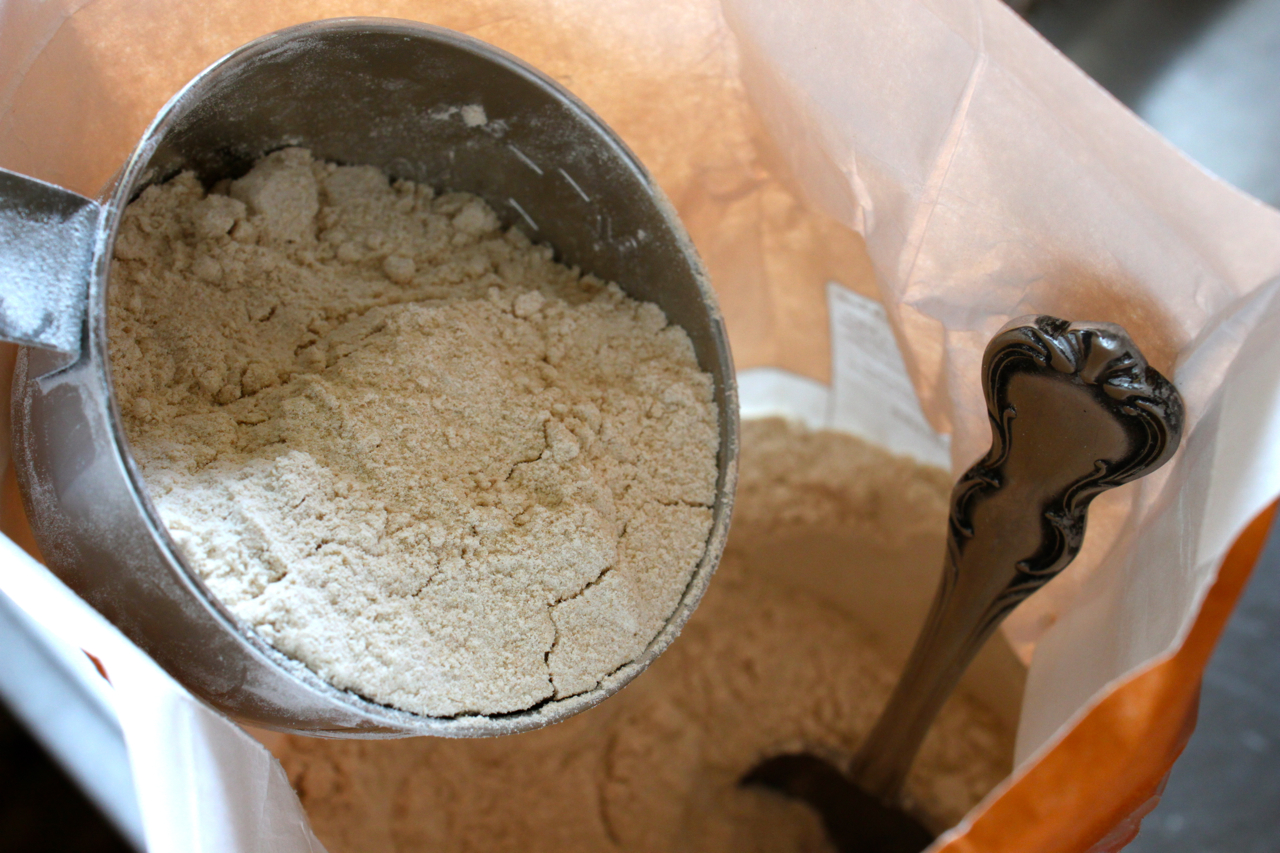 Flour. I use half White Whole Wheat flour, half White All-Purpose flour. You are welcome to use all white flour if you so choose, it will work fine! Just make sure whatever combination you use, to spoon the flour into the cup rather than scooping when you measure, you want doughnut dough to be sticky, not dry and tough because of too much flour!
Getting ready to knead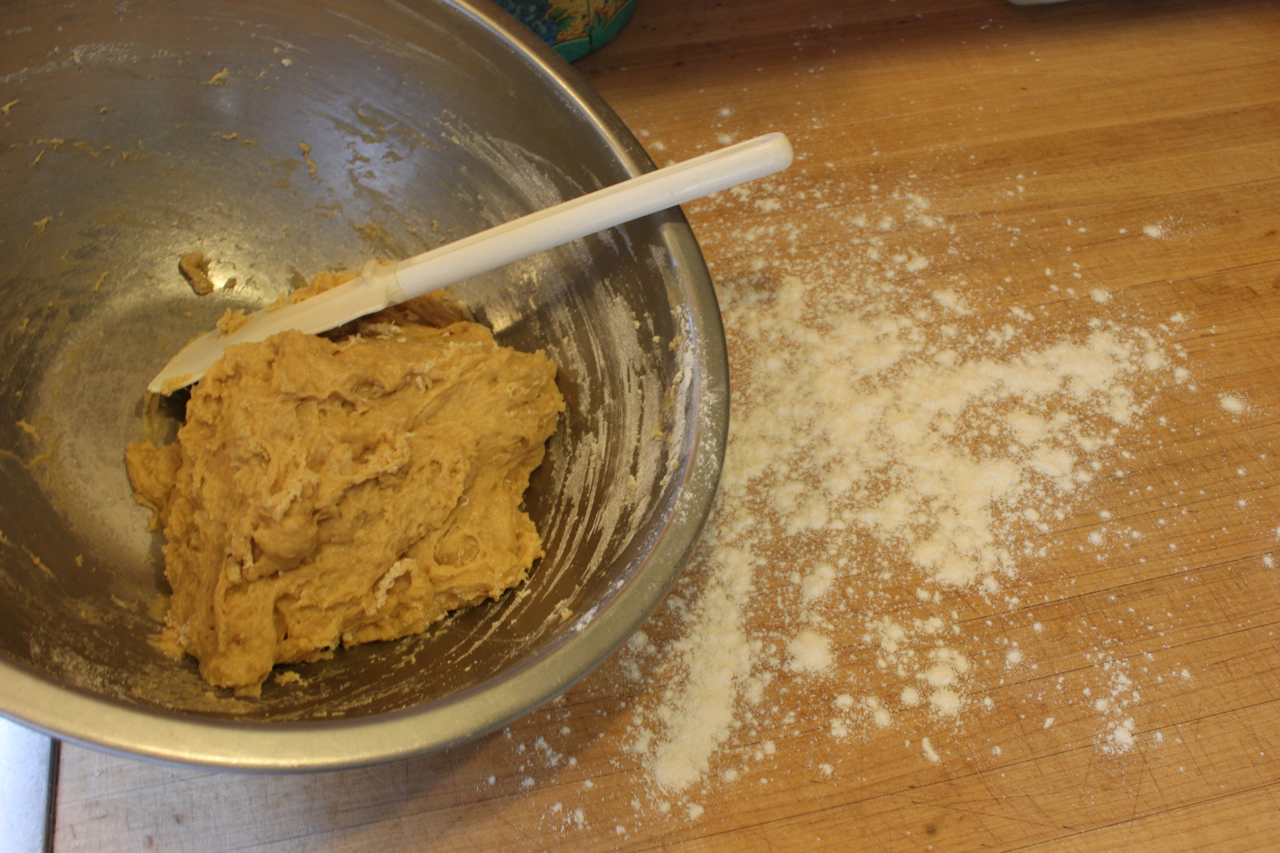 It will be fairly sticky at first, but because of the high butter content, will soon knead nicely enough without using much extra flour than what is called for in the recipe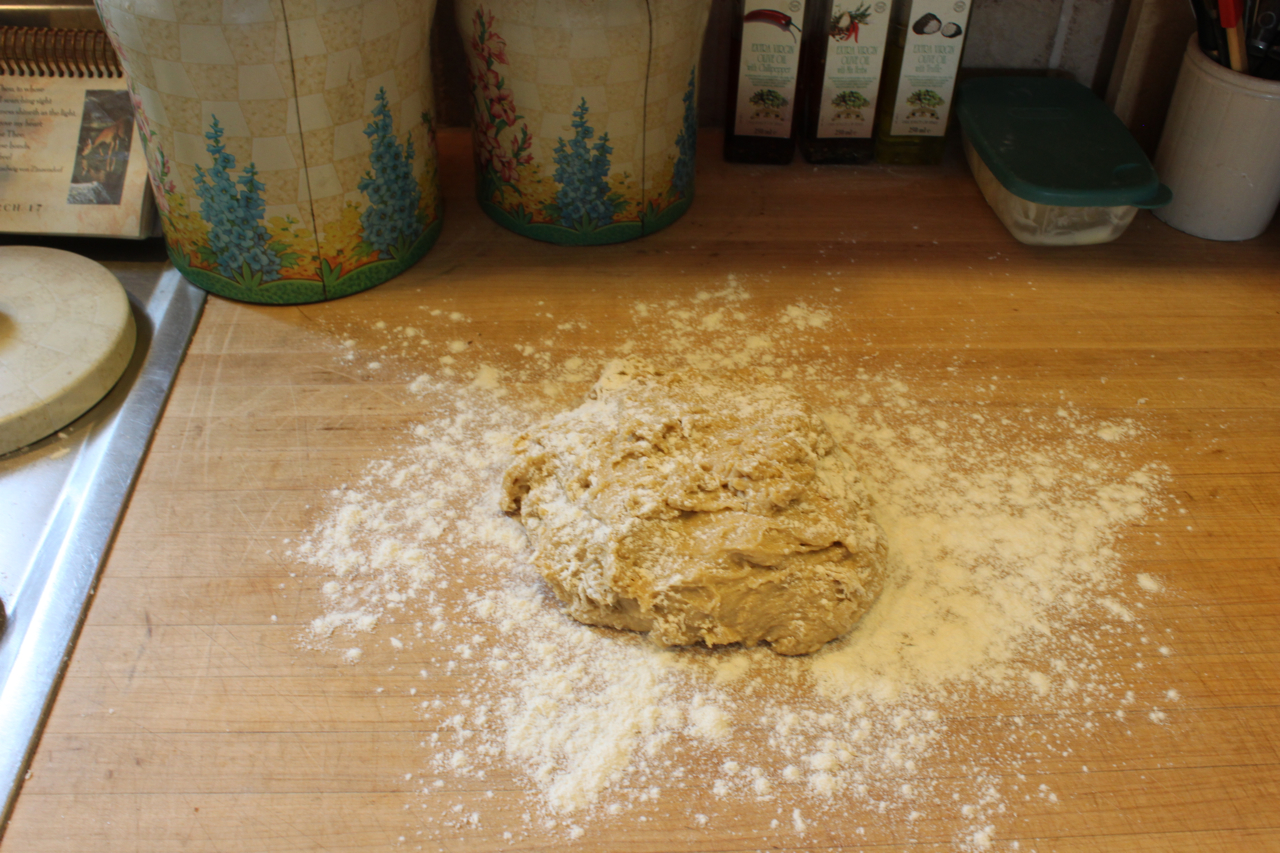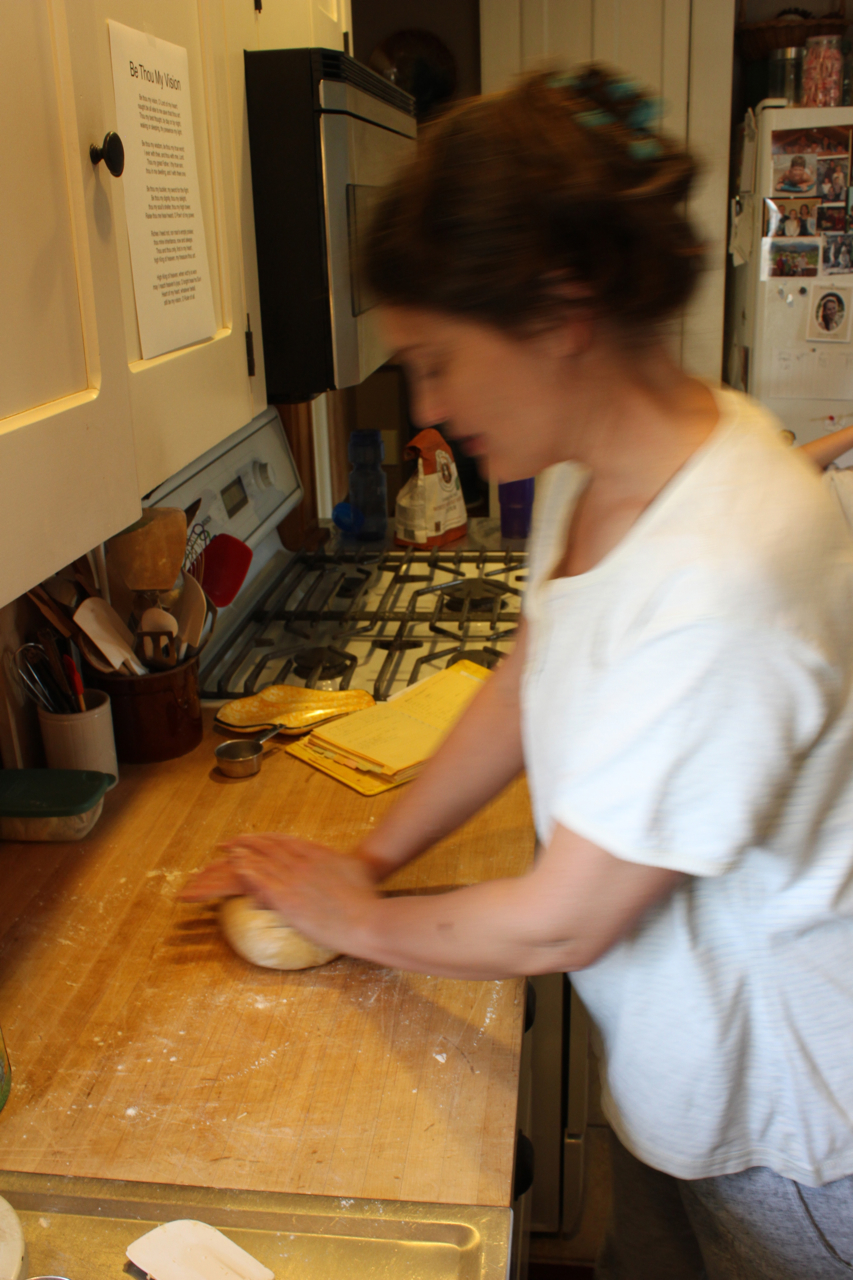 I only knead it for a couple minutes, until smooth. (Or until the photographer was finished taking pix. Al was the unlucky one to stroll by at this moment and I gave him the camera to get some close-ups of the kneading process. He didn't follow instructions too well :) and then I forgot to crop the pictures so this process is a little hard to see. Sorry. Place dough back into the mixing bowl.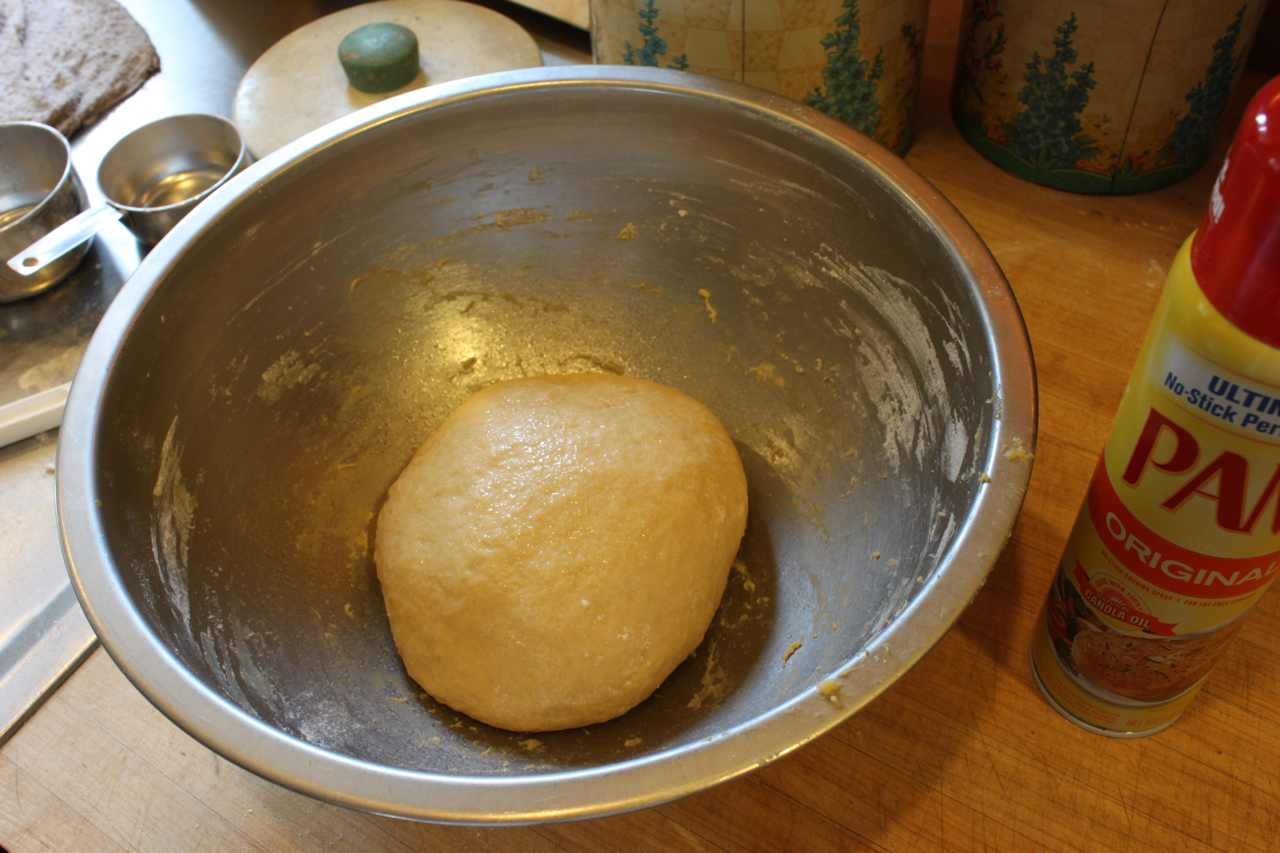 This is a buttery dough so I do not think you would have to grease the bowl and the top of the dough, but I did give it a quick mist just in case.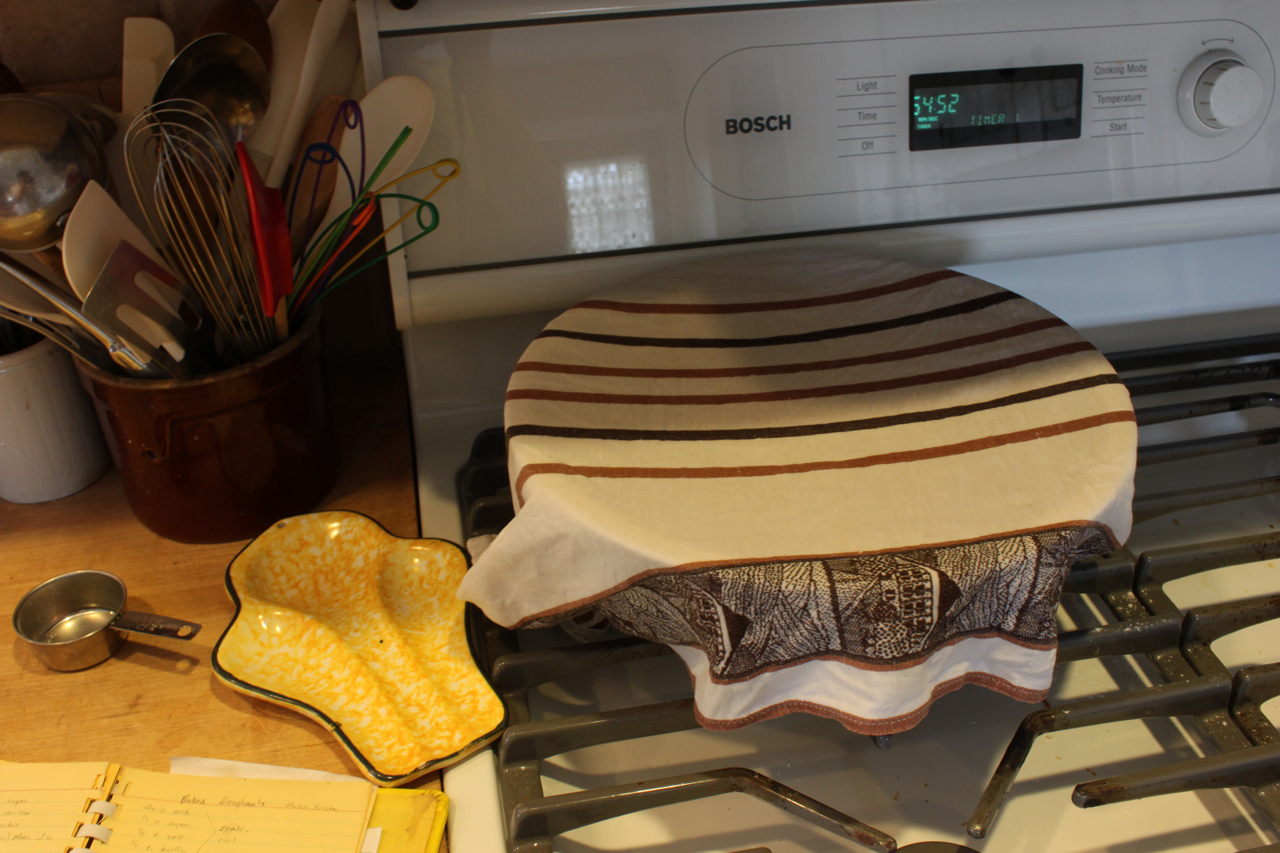 Cover with a damp tea towel set the timer for 1 hour.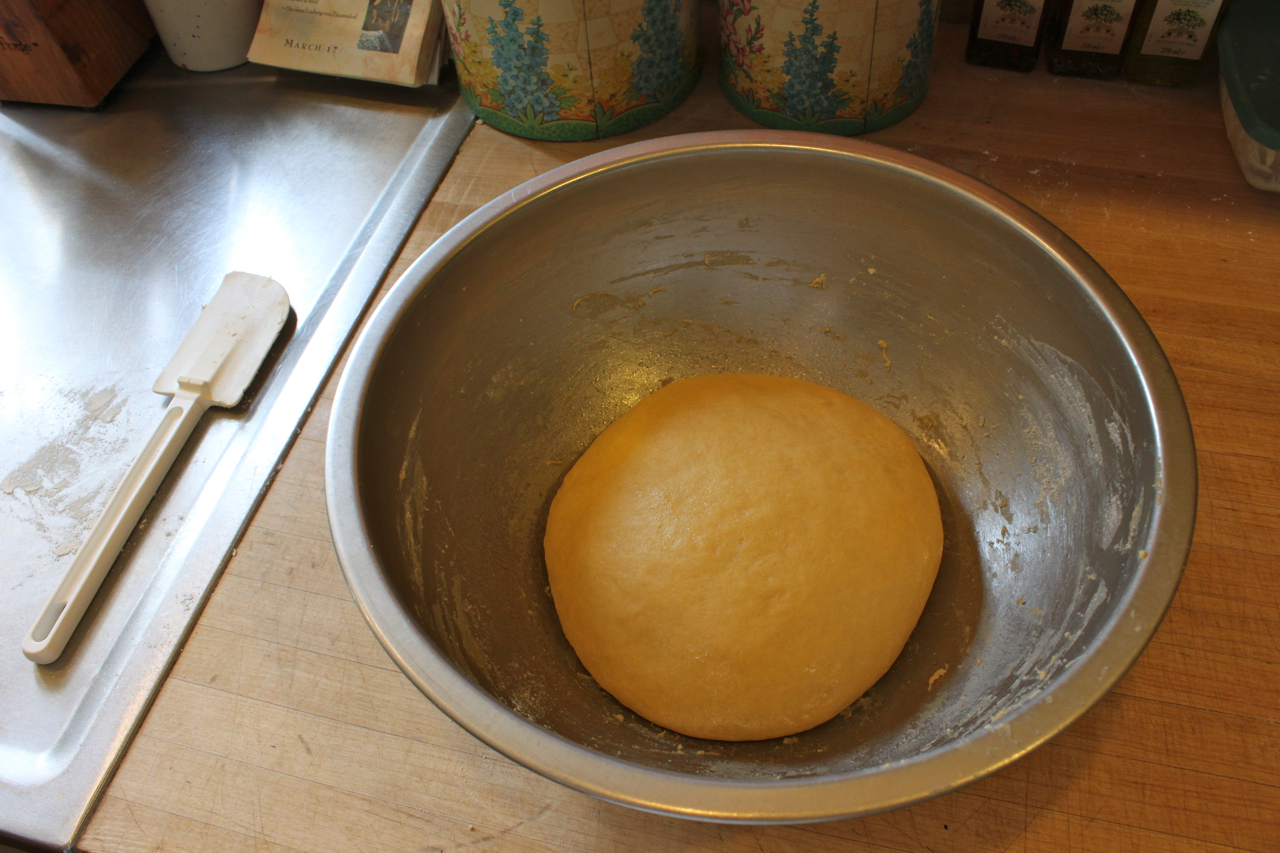 After one hour the dough doesn't look a whole lot different, just smoother and slightly puffy.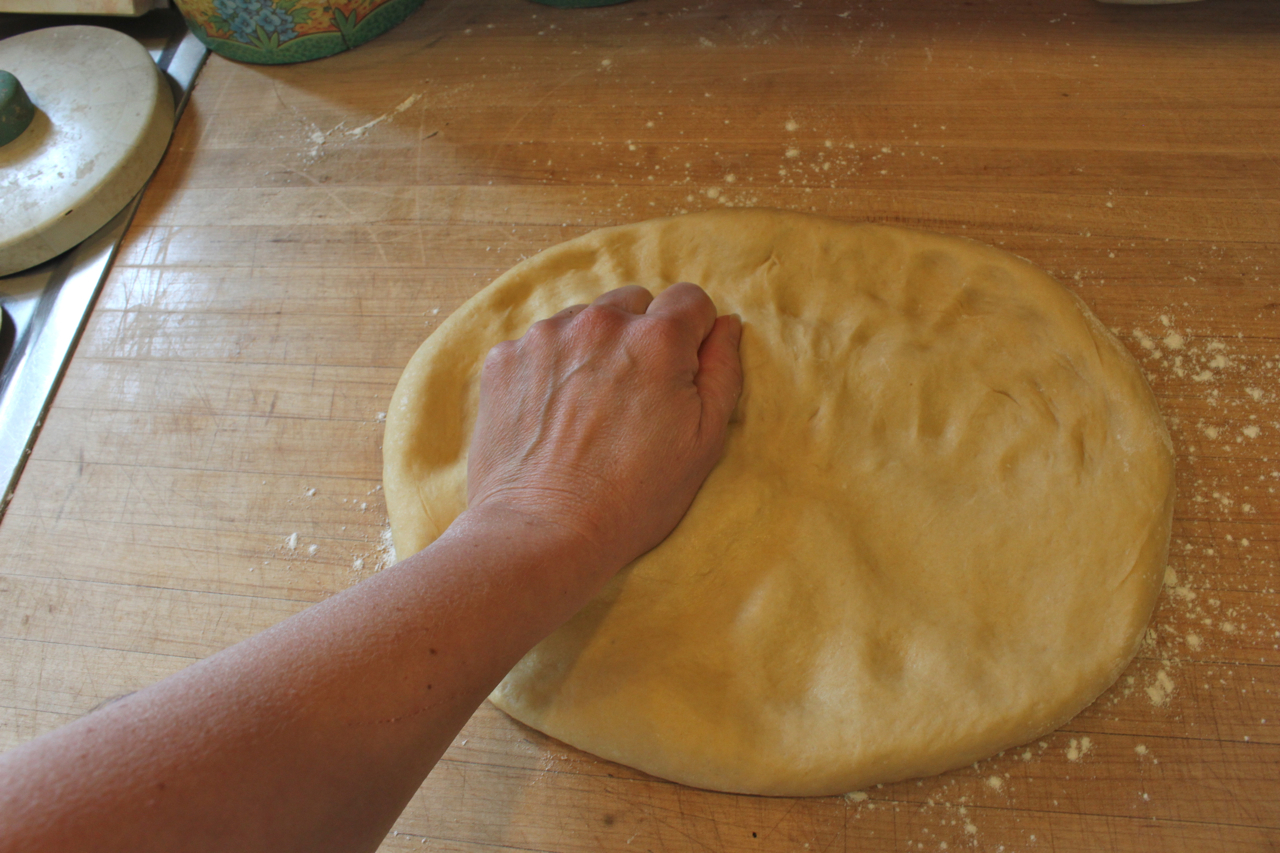 flatten on a lightly floured countertop, either with your hands or finish with a rolling pin to 1/2 inch thickness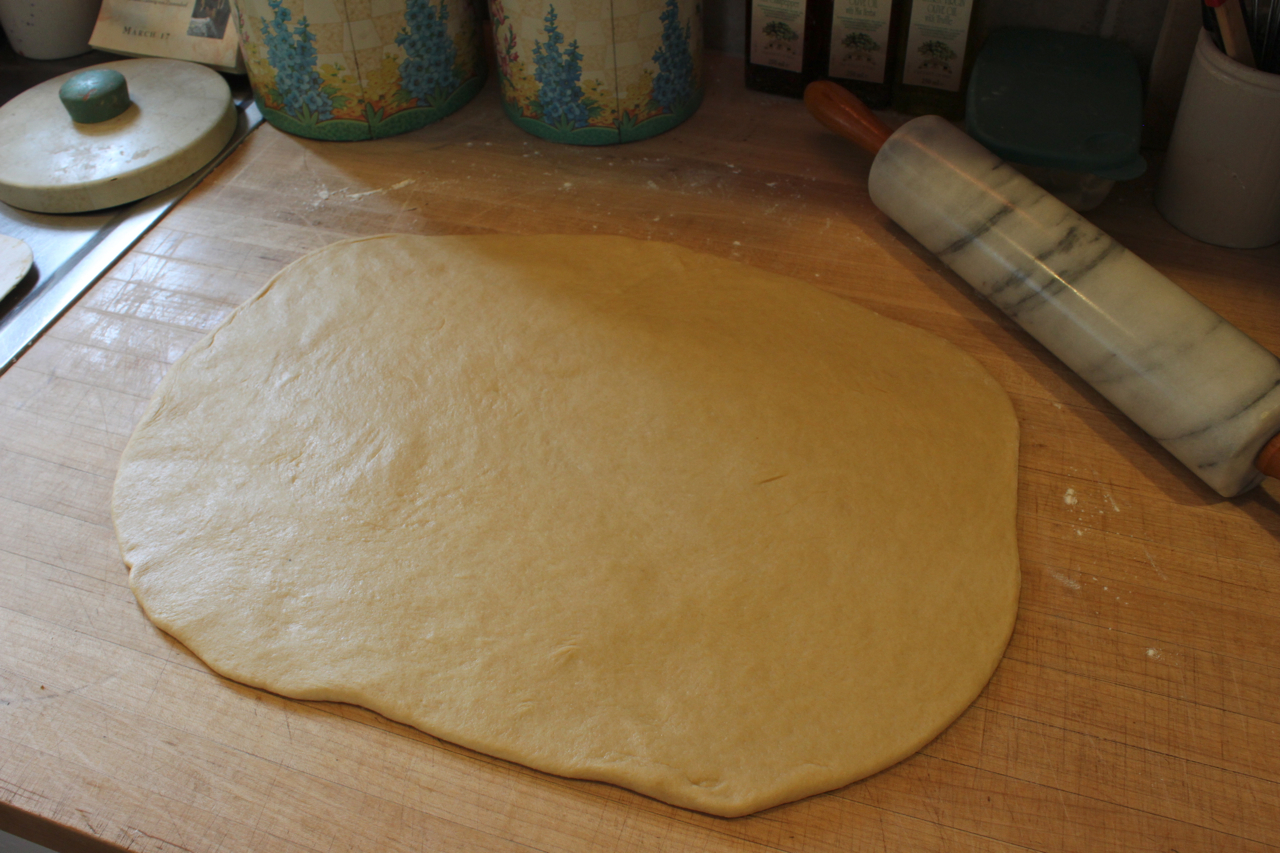 Not like this, I made it too thin, consequently, we had 24 small donuts instead of 18 regular size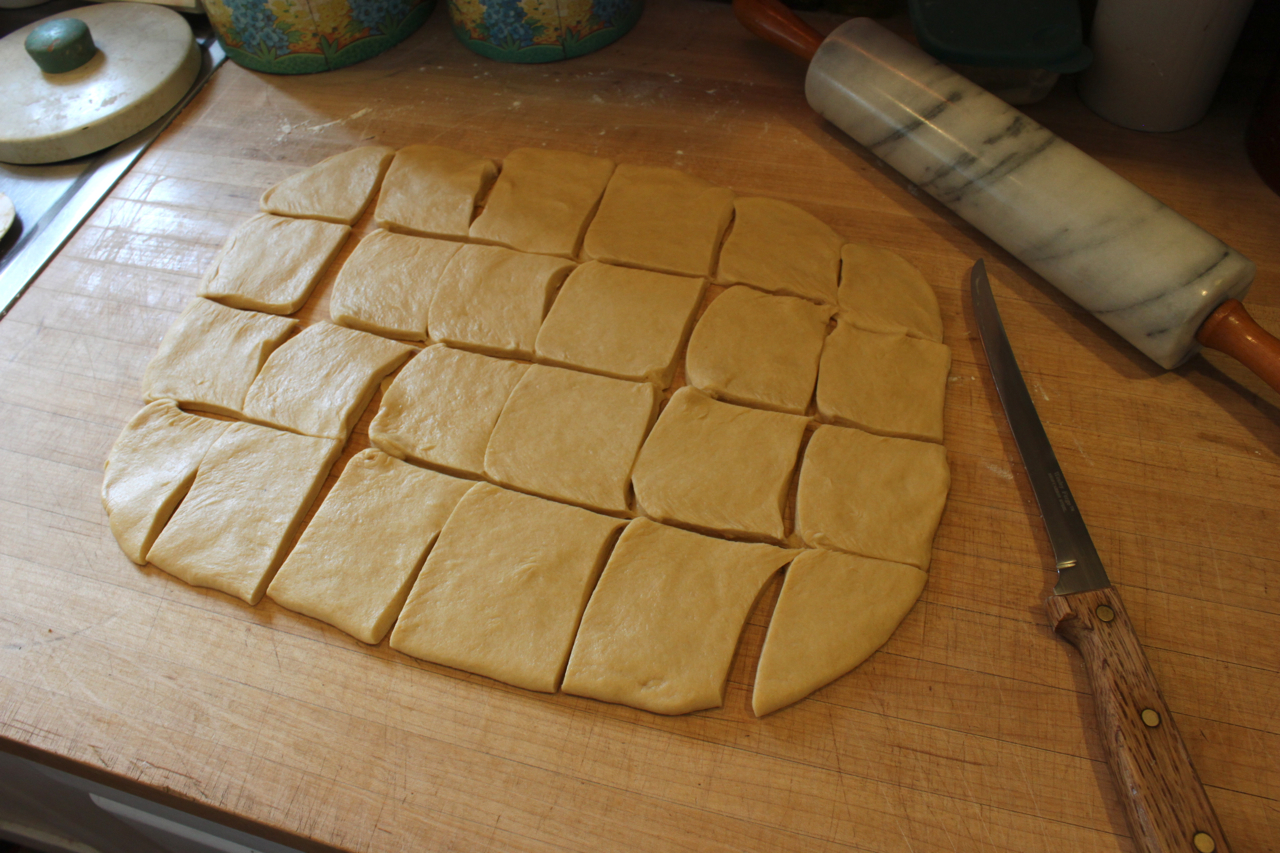 Cut. I am NOT a fan of re-rolling, so I just cut squares and use the removable center of a doughnut cutter to make the holes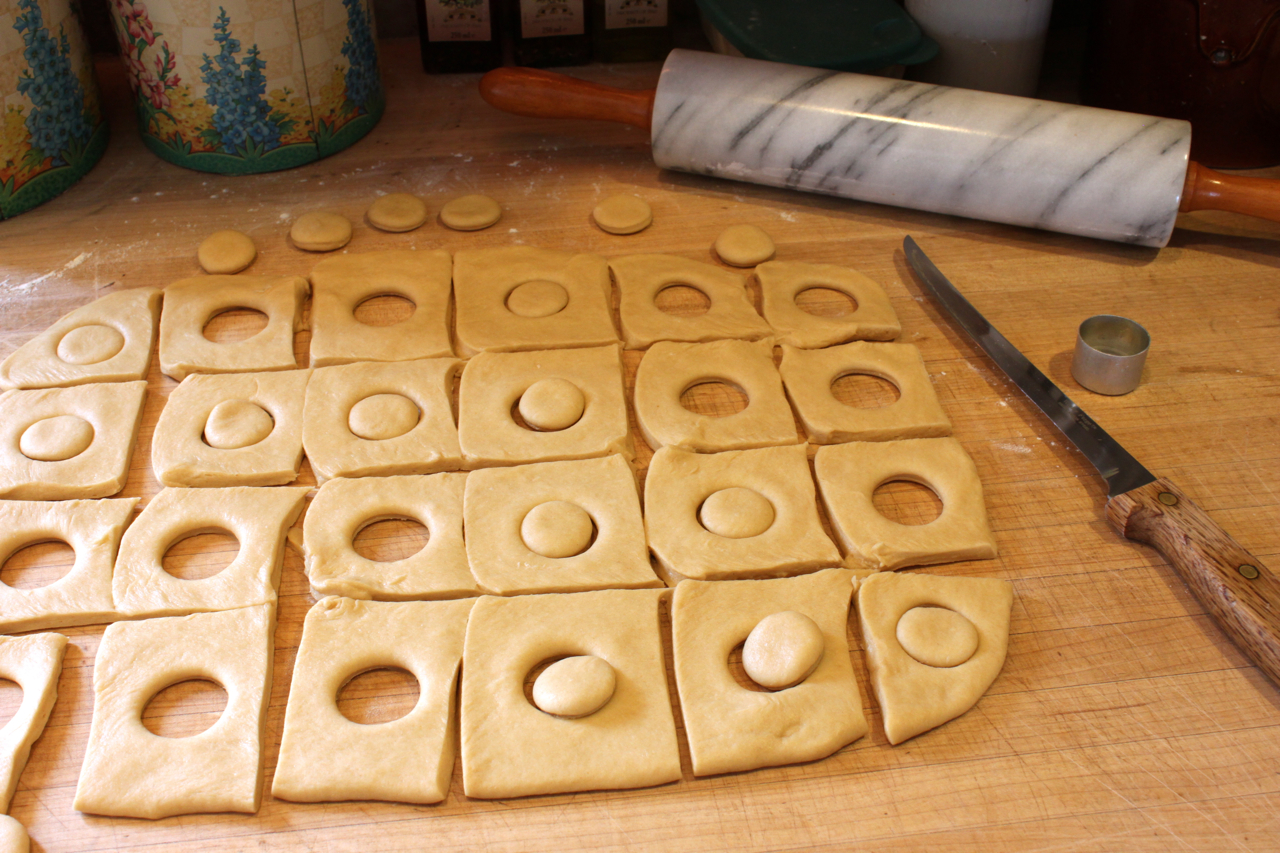 Place on baking sheets, I like to use parchment paper on the cookie sheets, they do not stick or burn as quickly with the paper, but it is optional.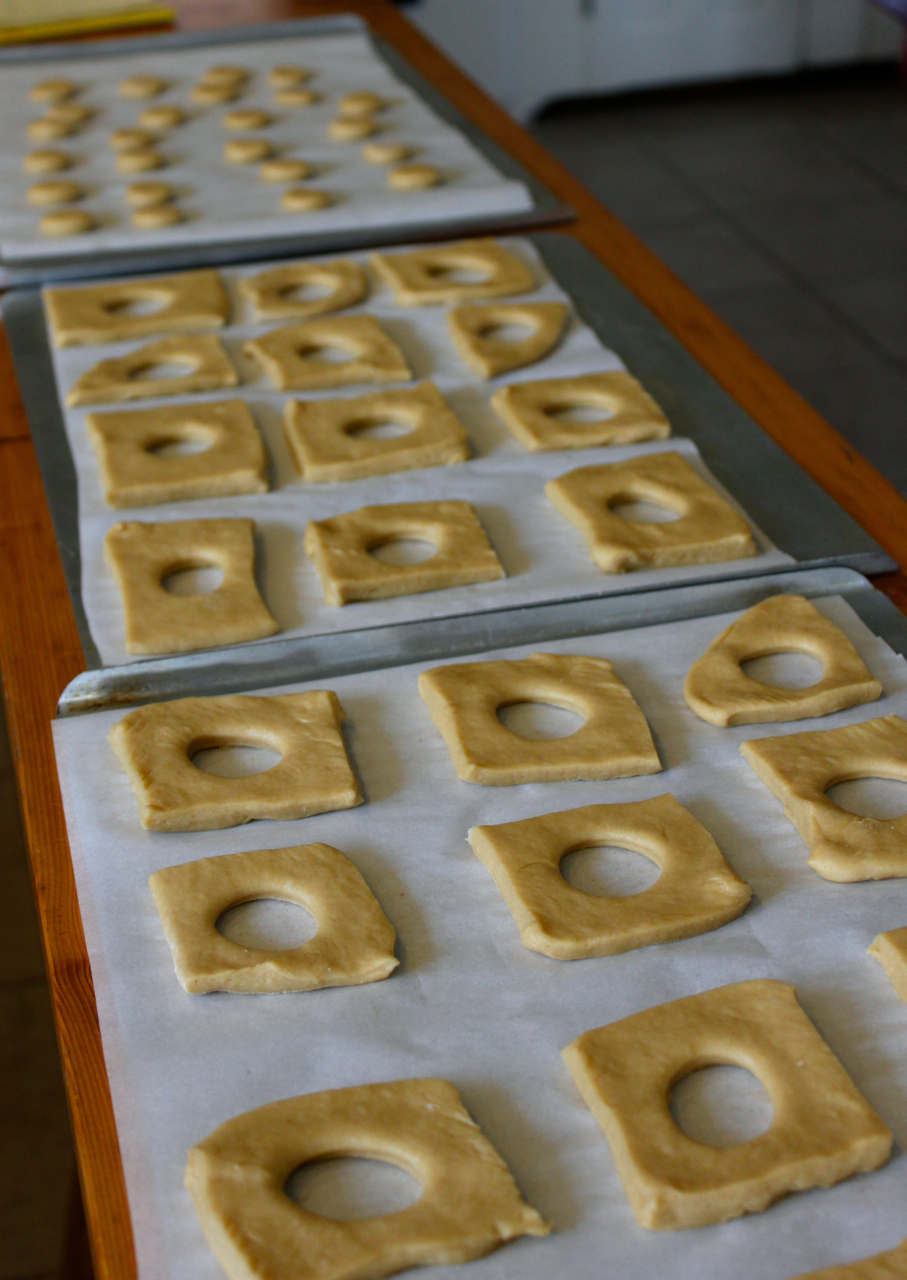 Set to rise for about an hour. Some time before that hour is up, preheat oven to 400 degrees.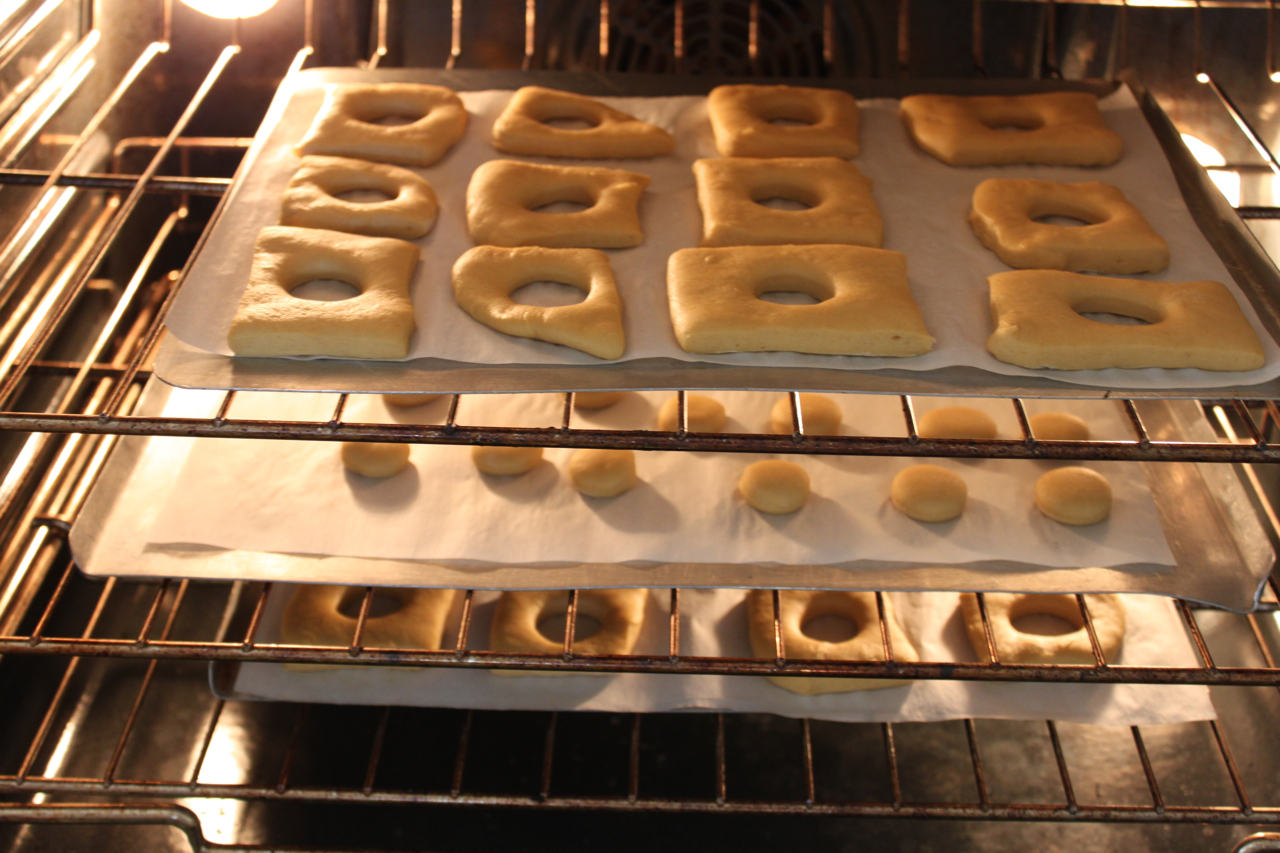 In the oven. I use Convection Bake so that I don't have to rotate the trays, Otherwise, I would recommend just one tray at a time. Bake 3-5 minutes (for me it is always 4 minutes) Melt the butter for brushing and prepare the cinnamon sugar while they bake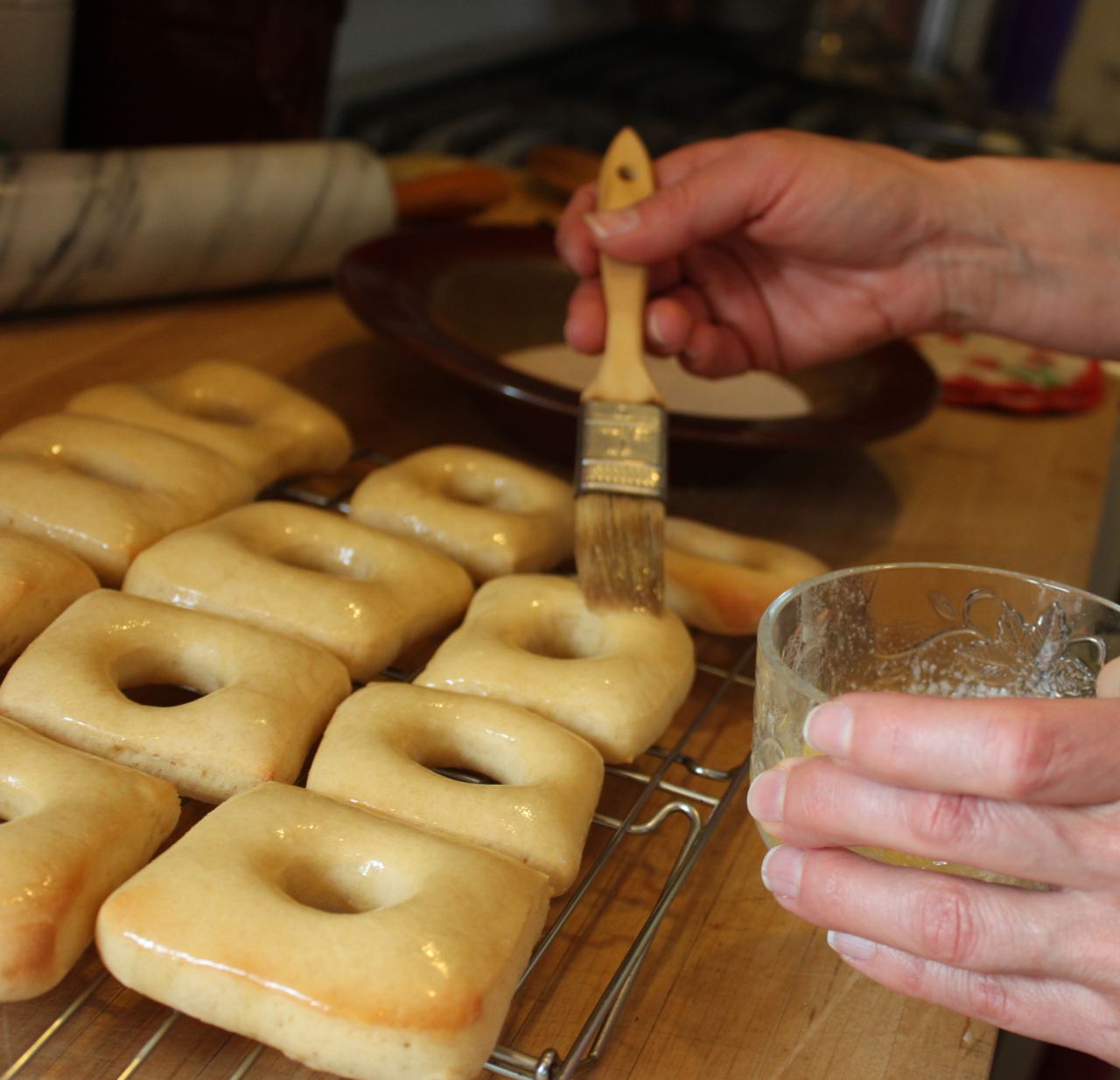 While still warm, brush with melted butter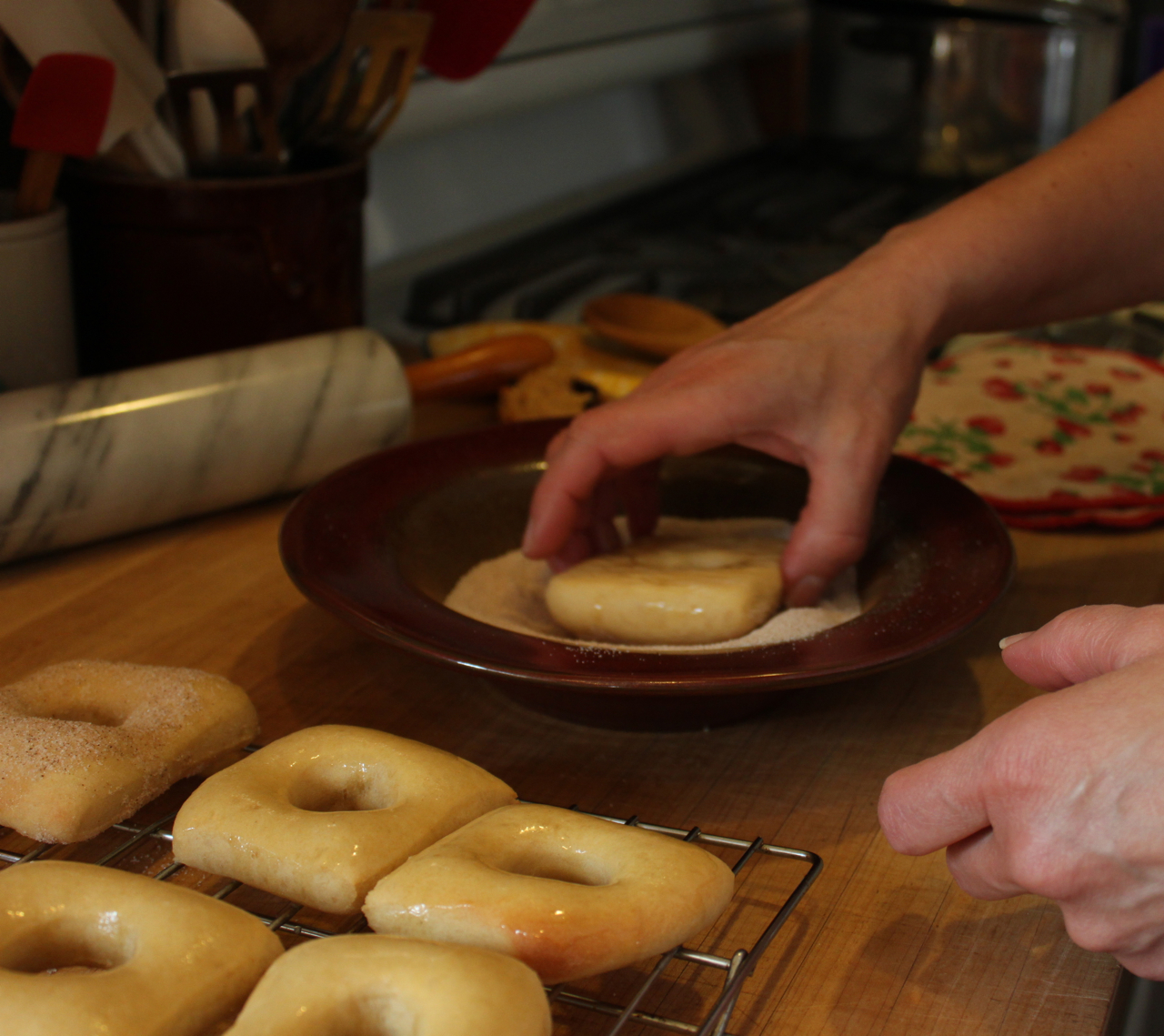 Dip in cinnamon sugar
I nabbed Betsy to take these pictures because by now my fingers were not camera ready… Best eaten fresh. Enjoy!